5 Reasons Now is the Right Time for Geothermal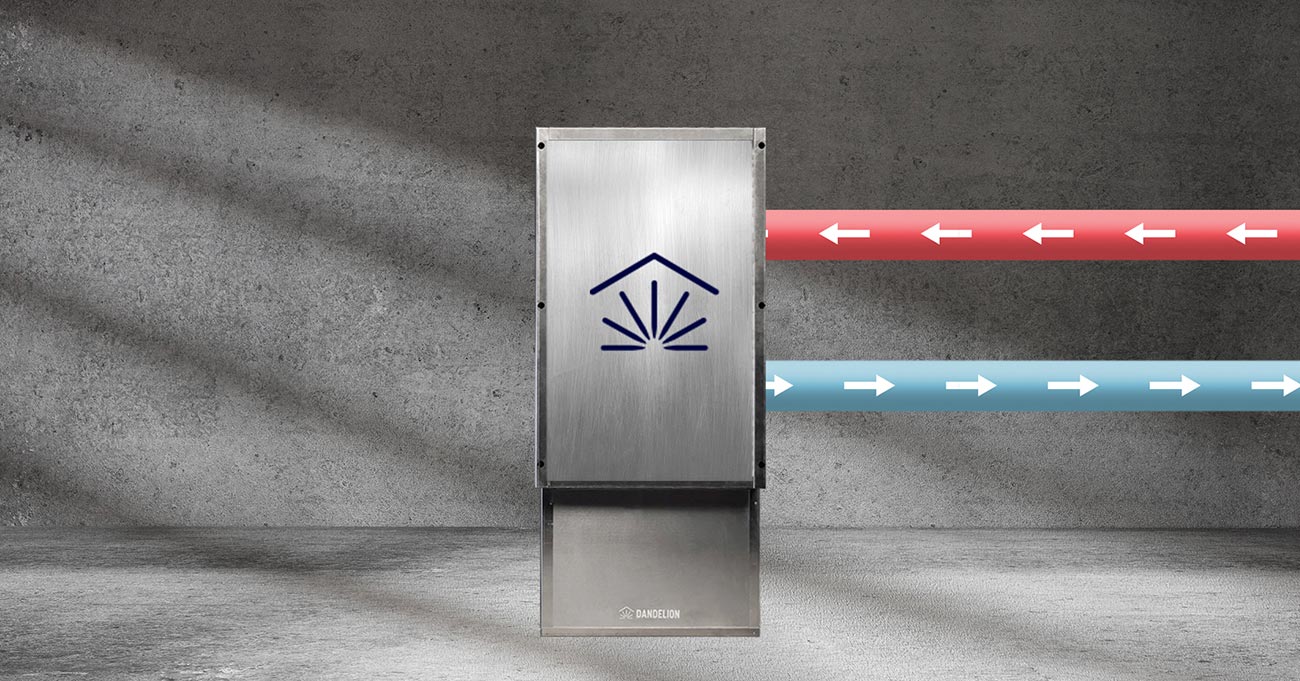 Whether hiding from a blustery winter cold front or seeking reprieve from a summer heatwave, indoor climate control is a saving grace for homeowners.
Today, these systems are often powered by natural gas, heating oils, or propane, which are finite, expensive, and harmful. In New York, 25 percent of households rely on heating oil and petroleum products to heat their homes, which has become less desirable and affordable every year.
As a result, demand for geothermal heating and cooling systems is soaring. Geothermal heating and cooling isn't a new development, but it's receiving fresh attention and urgency for today's homeowners.
Geothermal systems, such as the Dandelion Energy system, take advantage of the earth's constant temperature just 10 feet below ground. They harness the steady temperature surrounding any home to heat or cool it as needed.
Simply put, systems like Dandelion geothermal heat pumps provide an environmentally-friendly, cost-effective heating and cooling solution. Unsurprisingly, the secret is out, and demand is rising, making now the right time for homeowners to consider geothermal.
Not convinced? Here are five reasons now is the right time for geothermal heating and cooling.
#1 Rising Energy Costs
Heating and cooling are expensive, accounting for one-third of the average family's monthly utility costs. Unfortunately, the prices are going up. Energy costs rose significantly this year, increasing by 4.3 percent, the fastest rate since 2008. Meanwhile, the price of heating oil has nearly doubled in 2022.
Predictably, homeowners are feeling the pain as their home heating and energy bills rise accordingly. The US Energy Information Administration (EIA) estimates that home heating and cooling prices will increase by 30 percent in 2022 as a variety of factors contribute to rising costs.
In contrast, geothermal heating and cooling solutions are more efficient, effective, and, most importantly, electrified, allowing homeowners to save between 40 and 75 percent on their HVAC energy consumption.
Upgrade to geothermal and never buy heating oil, propane, or natural gas again.
#2 Temporary Tax Incentives
Federal and state tax incentives are driving down the cost of a new geothermal heating and cooling system.
The Investment Tax Credit provides federal tax support for renewable energy installations, including geothermal heat pumps. When it comes to maximizing federal financial incentives, time is money. Homeowners can claim a 30 percent tax credit for green energy installations until 2032.
New York's most recent state budget includes a new tax credit for residential geothermal heat pump installations in New York. The tax credit is available for any system installed after January 1, 2022, and it can be carried forward for five years if a homeowner's New York income tax liability is less than $5,000.
As a result, 2022 and 2023 are critical years for homeowners who can leverage available tax incentives to make geothermal installation more affordable.
#3 Improved Health & Air Quality
Burning fossil fuels and heating oil contributes to worse air quality inside the home. Burning oil, gas, or propane produces dry, often uncomfortable heat that emits dangerous carbon monoxide, an odorless, colorless gas that can be deadly if not detected.
​A Dandelion geothermal system uses the ambient temperature of the earth in your yard to provide highly efficient heating and cooling. Because it's so efficient, geothermal can accommodate all of your home's heating needs, and it doesn't burn anything so it doesn't produce any carbon monoxide.
#4 Lower Carbon Impact
According to the Energy Information Administration, Geothermal HVAC is the most sustainable, energy-efficient, and environmentally friendly way to heat and cool your home. Since a geothermal system burns no fossil fuel on-site to produce heat and greatly reduces summer electricity usage for air conditioning, it generates far fewer greenhouse gas emissions than a conventional HVAC setup.
In fact, a 5-ton Dandelion Geothermal Heating & Cooling System reduces a home's carbon emissions by ~80% per year when switching from fuel oil. That is equivalent to removing 39 cars from the road for an entire year!
#5 Increased Home Value
Homebuyers are increasingly environmentally conscious and sustainability-minded. What's more, they are willing to pay a premium to support these priorities.
According to one industry survey, 82 percent of buyers say they are willing to "pay more for a sustainable home over a traditional one." In addition, retrofitting a home with green energy solutions can increase the resale price by up to $15,000.
Notably, homes with geothermal heating and cooling systems sell for 7% more than their gas-powered counterparts, making it a practical investment for many homeowners.
In total, buyers view eco-friendly enhancements the same way they view aesthetic upgrades and modern amenities, and they are willing to pay for these improvements.
It's clear that there are many reasons to make the switch to geothermal heating and cooling with Dandelion Energy. Click the button below and learn if Geothermal is right for you.