Checking in with our First Customers, Two Months after Installation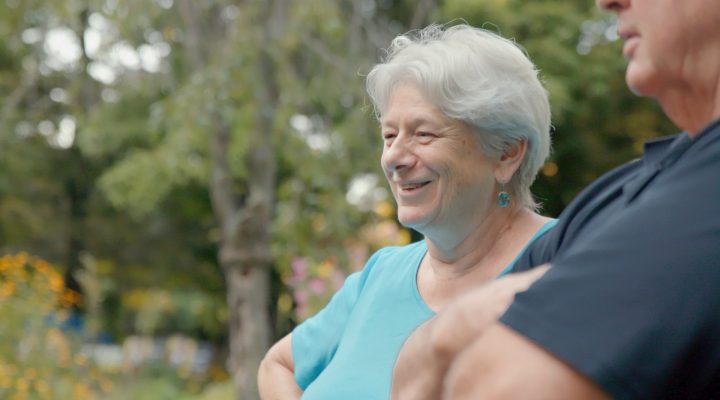 Becky Meier likes showing people her new geothermal heating and air conditioning system from Dandelion, but admits there isn't much to see.
For nearly a week in mid-September, her home in Canaan, NY, was a flurry of activity–a drilling crew dug two 300-foot boreholes in her front yard, a second crew dug a 100-foot trench from the boreholes to her house, and a third crew pulled out her ancient oil furnace and hot water tanks and replaced them with a new, all-electric geothermal system.
Two months later, new grass is quickly filling in, and when she shows people where they dug, she finds herself pointing at the lawn.
"I keep thinking, there ought to be a flag where these two [boreholes] are," Meier said. "When someone comes to look at the system, there isn't much to show them. In the basement, there's something that looks a lot like a furnace and outside, all you see is lawn. You don't even have something coming out of the ground."

The biggest change? Rather than fiddling with the thermometer several times a day, she and her partner, Bob Connors, set it at a single temperature and leave it there all day. The system quietly hums in their basement, keeping the house at a steady 67 degrees, no matter what the temperature is outside. 
Meier and Connors sat down with Dandelion last week to show off their new system and talk about their experience so far. We broadcast the conversation on Facebook Live, and took questions from the audience of live viewers.
Meier and Connors talked about their environmental activism, which led them to launch their nonprofit, Stop NY Fracked Gas Pipeline, and organize an annual fair devoted to renewable energy and sustainable living.

But they found themselves increasingly uncomfortable with the idea of burning 800 to 900 gallons of oil each year to heat their home. By comparison, the average American driver consumes about 580 gallons of gasoline per year.
Dandelion's geothermal system runs on electricity, and is made more energy efficient by a geothermal ground loop. Meier and Connors were told to expect their monthly electric bill to rise by 50 percent. In November, the system consumed about $75 in electricity, they say. The couple buys their electricity from a local renewable energy power company.
"We'll be saving thousands of dollars on oil; we have no more fuel oil bill or maintenance costs," Connors said. "The air is cleaner inside the house, and this geothermal system is one more nail in the coffin for fossil fuels."