Dandelion raises $30 million funding round led by Bill Gates' Breakthrough Energy Ventures
We are thrilled to announce the close of a $30 million Series B round of funding, bringing our company's total funding to $65 million. This raise was led by Breakthrough Energy Ventures with participation from existing investors, including GV, NEA, Lennar Corporation, Collaborative Fund, Building Ventures, Catchlight Ventures, and GroundUp.
More than 70% of energy usage in the home comes from heating, cooling, and water heating. Installing our Geothermal Heating & Cooling System can reduce a home's carbon emissions by as much as 80%, all while eliminating the need to buy heating fuel. Our innovative business model aligns federal, state, and utility incentives so that homeowners can upgrade to geothermal for less than they're currently paying to heat and cool their home.
With our proprietary drilling suite, heat pump, and smart remote monitoring technology, we reduced the cost of installing geothermal systems by more than 60% and have already eliminated over 100,000 tons of carbon emissions. We have proven that geothermal heating and cooling is a cost-effective option for consumers that can be delivered at scale. This investment is a tremendous validation of our work and the potential of residential geothermal.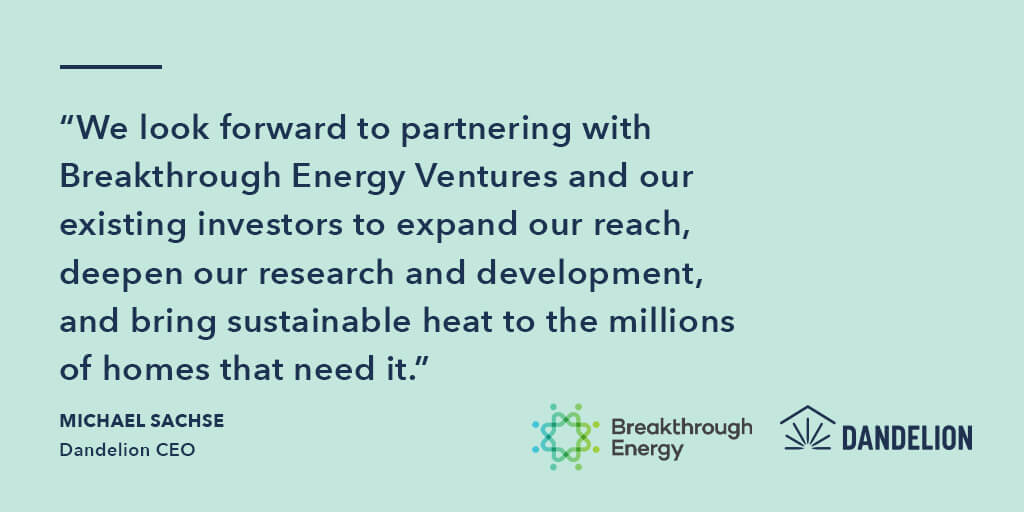 "Through a combination of technology, data and operations, Dandelion is making geothermal heating and cooling cost-effective for the residential market, and working to solve a critical need for homeowners and our energy ecosystem," said Carmichael Roberts, Breakthrough Energy Ventures. "Dandelion's geothermal heat pumps provide an efficient electric heating and cooling system that lowers the cost of heating and cooling for homeowners, no matter their region or climate. We're looking forward to working with Dandelion as they look to fully displace fossil fuels from the home's heating and cooling systems."
This round of funding gets us one step closer to our mission: to enable the widespread adoption of geothermal by creating a smarter, more affordable, and more innovative approach than any other heating/cooling system on the market. The decarbonization of the energy sector is inevitable. We are excited to lead the way and build something great for consumers and the environment, alike.
Make the switch to Geothermal with $0 down.
To see if your home qualifies click here: