Spring is Almost Here: Why Now is the Right Time to Enhance Your Home Heating Solution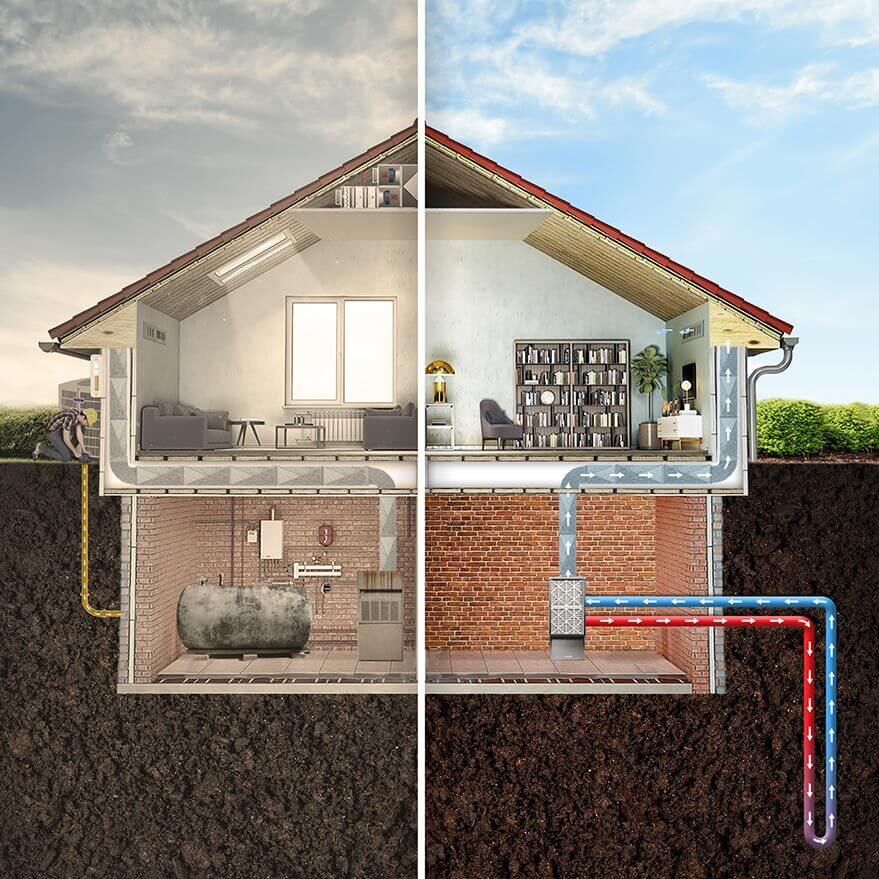 According to Farmer's Almanac, this winter was predicted to be a doozy. The publication's 2022-2023 prediction warned of pre-season snow storms, record-breaking cold temperatures, and an active storm pattern impacting the eastern half of the US. As the Almanac cautioned, people should be ready to "shake, shiver, and shovel." And, as we have already experienced especially here in the Northeast, the predictions were not 100% accurate!
While the weather outside might be frightful, the right home heating solution can ensure that your house is a respite from the unpredictable weather year to year.
Unfortunately, most home heating systems are powered by inefficient, expensive, and polluting fossil fuels like natural gas, heating oil, or propane. It's time to make a change.
Dandelion geothermal systems take advantage of the earth's constant temperature just 5 feet below ground, harnessing the steady temperature surrounding any home to heat or cool it as needed.
Here are three reasons why it's worth considering switching to geothermal today.
#1 Geothermal Has Never Been More Affordable
At one point, geothermal was a "nice to have" feature for wealthy homeowners and builders, unaffordable and out of reach for most people.
Not anymore.
Technological advancements have significantly reduced the cost of installation, while federal and state financial incentives are further reducing costs for many people. Most notably, the Inflation Reduction Act of 2022 extends the Energy Investment Tax Credit, providing a 30 percent credit for geothermal heat pump projects enacted before January 1, 2033. This credit falls to 26 percent in 2033 and 22 percent in 2034.
It also offers a tax credit for energy efficiency home improvements, increasing the limit to $2,000 for heat pumps and heat pump water heaters. In addition to the tax credits, all homeowners will be eligible for rebates of up $4,000 for energy efficiency improvements, including geothermal heat pumps. For homeowners earning less than 150% of the Area Median Income, their rebates could be even higher – up to $8,000.
When coupled with state and local incentives, homeowners can more easily outfit their new or existing homes with geothermal heating solutions.
What's more, homeowners can expect to immediately begin receiving a return on their investment as geothermal systems come with significantly cheaper operating costs than their gas or heating oil-powered counterparts.
As a result, Dandelion geothermal reduces energy expenses by up to 47 percent per year.
Taken together, geothermal heating solutions have never been more affordable, making now the perfect time to make a change.
#2 Higher Home Values & Resale Prices
Home buyers are increasingly prioritizing homes outfitted with green or renewable energy enhancements, and they are willing to pay a premium for these upgrades.
For instance, one survey found that 82 percent of homebuyers are willing to pay higher prices for a more sustainable home. That's why retrofitting a home with green energy solutions can increase the resale price by up to $15,000.
More specifically, homes equipped with a geothermal heating and cooling system sell for seven percent more than houses with a traditional furnace installation.
As interest rates climb and the hot housing market cools, green energy upgrades can be a differentiating factor, allowing homeowners to maximize the value of their most important physical asset.
#3 Electrification is the Present and Future of Sustainability
In 2017, David Roberts, a writer covering energy and climate change for Vox, offered a simple but seemingly impossible solution to climate change: electrify everything. Now, this approach is the present and future of many states' sustainability initiatives.
From California to New York, novel regulations and building codes are eradicating new natural gas lines in favor of electric-powered amenities. Meanwhile, as energy prices continue to climb, many homeowners are inherently incentivized to make electricity the centerpiece of their energy portfolios, including home heating solutions.
With geothermal heating and cooling, homeowners are electrifying their most expansive and expensive appliance, ultimately lowering utility costs and supporting sustainability in a tangible and impactful way.
Get Ready for Spring with Dandelion Energy
With energy prices continuing to climb, climate change realities becoming more urgent, and new legislation, like the Inflation Reduction Act of 2022, offering better financial incentives, now is the right time to enhance your home heating solution to prepare for spring and beyond.
Take our short survey to see if your home qualifies for geothermal, or contact us today to meet with Dandelion's team about making this winter the most comfortable, affordable, and sustainable season yet.