Geothermal Heat Pump Cost Factors
An average geothermal heat pump costs between $1,500 to $2,500 per ton within Dandelion's service territory which includes parts of New York State. While the precise heat pump size is dictated by the home's heating and cooling needs, a standard single-family 2,000 square foot home usually requires a 5 ton heat pump ($7,500 to $12,500).
The actual heat pump price is scaled up or down based on the variables below.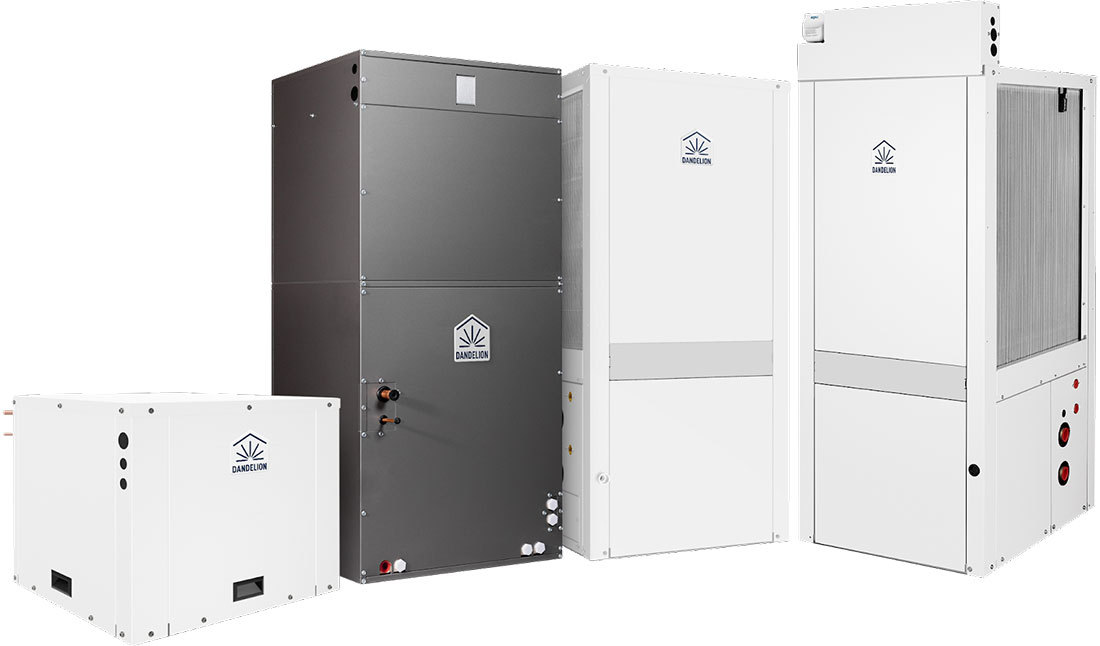 Heat Pump Size
A geothermal heat pump must be properly sized to meet a home's exact heating and cooling needs. Reputable contractors perform what's known as a Manual J, the industry standard for calculating a home's heat gain and loss -- the amount of heat lost through the home's exterior in the cooler months, and the amount of heat gained in the warmer months. Numerous variables affect a home's heating and cooling needs, including home size, insulation, the number of windows, geography, duct leakage, and even orientation to the sun.
When designing the Dandelion Heat Pump, we wanted to balance quality, efficiency, and cost. We chose to build a 2-stage heat pump because it provides a lot of efficiency without the additional expense that comes with a variable-stage pump. This means our customers see a faster return on their investment.
Heat Pump Efficiency Rating
Two measurements are used to calculate the efficiency of a geothermal heat pump -- Coefficient of Performance for heating (COP), and Energy Efficiency Ratio for cooling (EER). COP indicates the ratio of heat produced to the amount of energy used to produce it, whereas EER indicates the amount of heat removed from your home to the amount of energy used to remove it.
Geothermal systems generally have COPs between 3-5 and EERs between 15-25. A heat pump is also the only heating and cooling machine with a COP above 1! The higher the COP and EER, the less electricity (and money!) used to operate the machine, but the higher upfront cost to purchase it.
On average, geothermal heat pumps are 400% efficient. That means for every 1 unit of energy used to power your geothermal system, 4 units of heat energy are supplied to your home. Energy is not created as part of this process - when 1 unit of electricity is consumed to deliver 4, it means that 3 units of energy are absorbed from the ground.
Combustion-based systems like oil-furnaces, however, are unable to reach even 100% efficiency because they always deliver less energy than they consume.
Packaged System vs Split System
A geothermal heat pump contains 3 primary components:
A heat exchanger that interacts with the outdoor ground loop
A compressor
A heat exchanger that interacts with the indoor ductwork or hydronic distribution system.
When these components are contained in a single box, it's called a "packaged" unit. If you split the pieces into separate boxes and install them in different places in the house, it's called a "split" system.
Homes with ductwork located in the attic or with low-ceiling basements generally require a split system.
Split systems are more complex to install than packaged units. A packaged unit has all the pieces that need refrigerant in one place, so it's easy to "charge" the system with refrigerant at the factory where it's manufactured. Split systems, however, must have these pieces connected on-site with copper tubing where they're brazed together and finally, charged with refrigerant.
Because of a split system's additional equipment, complexity, and labor, they're typically more expensive than packaged systems. They have the added benefit, however, of more flexibility with respect to where the heat pump and air handler are located in your home.
Heat Pump Compressor Type
There are 3 types of heat pump compressors: single-stage, two-stage, and variable-stage.
A single-stage heat pump has only one setting — full blast.
Once your desired temperature is reached, the unit will switch off. This means single-stage heat pumps don't have the ability to operate at lower, more efficient speeds and frequently shut on and off. These short run-times lead to less uniform temperature distribution throughout the home and a higher likelihood of hot and cold spots.
Single stage heat pumps are simple which means they cost less to purchase and repair. Because of their simplicity, however, they have higher operating costs than two-stage and variable-stage heat pumps due to the frequency with which they cycle on and off.
A two-stage heat pump has 2 levels of intensity - high and low.
It'll cycle on and off in low speed (first stage) for the majority of the year, until if gets really cold/hot out and needs to jump to high speed (second stage) to keep up. It jumps between stages automatically as dictated by the thermostat control. The unit consumes less electricity in low speed (making the system more efficient), and runs for longer periods of time. These long run times circulate and mix the air in the home, making it more uniform and dehumidified throughout. This eliminates the likelihood of hot and cold spots.
Once the home has reached its desired temperature, the system will switch to the lower stage and continue to run. This fluctuation allows the home to efficiently maintain a steady, even temperature. Two-stage heat pumps typically cost more than single-stage heat pumps but less than variable-stage heat pumps while achieving moderate to excellent efficiency levels.
A variable-stage heat pump can vary its levels of intensity incrementally.
As a result, these units rarely shut off while maintaining a consistent temperature and excellent efficiency. Variable stage heat pumps cost more than either single or two-stage heat pumps but can experience higher repair costs due to their complexity and only average durability.
It's worth noting that although variable-stage heat pumps are more efficient than 2-stage heat pumps, the efficiency gain from two-stage to variable-stage is modest relative to the price increase for variable-stage capabilities.
Most residential heat pumps range in size from 1 (12,000 BTU/HR) to 5 tons (60,000 BTU/HR). Homes with larger heating and cooling loads require larger heat pumps -- and sometimes even more than one. The larger the heat pump, the greater the cost.
Water-to-Air Heat Pump or Water-to-Water Heat Pump
A water-to-air heat pump is suitable for homes that use ductwork for heating or cooling, whereas a water-to-water heat pump is compatible with homes that use water-based heat distribution systems like radiators or in-floor radiant heating. Water-to-water distribution systems are generally more complicated and thus more expensive.
Older homes generally have distribution systems that are designed to deliver heat with the high temperature water that you get from a boiler (180F). Water-to-water geothermal systems can only deliver up to about 120F water temperatures, which usually means the old distribution system (radiators, etc) need to be replaced or abandoned altogether. These costs quickly add up.
The Dandelion Heat Pump is a water-to-air pump. That means it's only compatible with homes that use ductwork to heat or cool.
To get a custom estimate for your unique home, contact us for a free home consultation.
Ductwork Cost Factors
Zone Control
Single Zone
Multiple Zones
A single zone home has "all or nothing" heating and cooling, meaning the warm or cool air will distribute throughout the entire home while the system is running. Homes with multiple zones are divided into areas that each have their own individual temperature control.
Installing zoning requires the installation of dampers, a zone control board, and additional thermostats to control where the heated/cooled air from the home is being sent. Duct zoning provides more granular temperature control in sections of the home (e.g. you can have a separate zone in the basement and on the main level), but the additional components add to the cost.
Ductwork Usability
In some cases, a home's existing ductwork is in poor condition or needs other modifications.
If a home does not currently have any ductwork, adding it can cost between $5,000 to $20,000 or more depending on the home size, ductwork complexity, and other factors.

Electrical Upgrades
Installing a geothermal heat pump is often part of 'electrifying' a home. That is, transitioning away from using fossil fuels on site to using electricity for all of the home's needs. Electrifying a home increases the total amount of electrical power that is pulled, and this can sometimes strain the main line or panel that handles the home's power.
In these cases, the line and/or panel must be increased in size. This increase is sometimes minor and relatively common, so the cost will be lower. Some homes require a significant increase, however, which comes at a cost-premium.